If you've just started vaping or maybe if you are just about to start, you might find it difficult at first to navigate the market and find the best product for you. There's a large range of vaping products on the market.
Having so many options available can make choosing the right vape for you a bit of a challenge. You want a quality product, but with a reasonable price tag attached. Something that works for you and meets your preferences.
We've compiled a great list of the best vape starter kits to help make your choice a bit easier.
Hopefully, it will help in giving you the guidance and information you need to make a discerning purchase and start you on the road to quality vaping.
Image Source: iVape
Smok Trinity Alpha
The Smok Trinity Alpha is a pod-style AIO vape starter kit. It provides an uncomplicated vape experience, coupled with impressive battery power.
The Smok Trinity Alpha should satisfy your vaping needs. It has a sleek look and has the kind of design that is getting very popular lately. The vape works at the click of a button and doesn't have an array of options or unnecessary mods.
Boasting an impressive 1,000 MaH battery and a 2.8 ml capacity it should last you the day! The atomizer itself uses Nord Mesh coils, which passes on the flavor.
The Smok Trinity Alpha comes in at a reasonable price and will set you up nicely with a good all-round robust package suitable for any beginner vape enthusiast.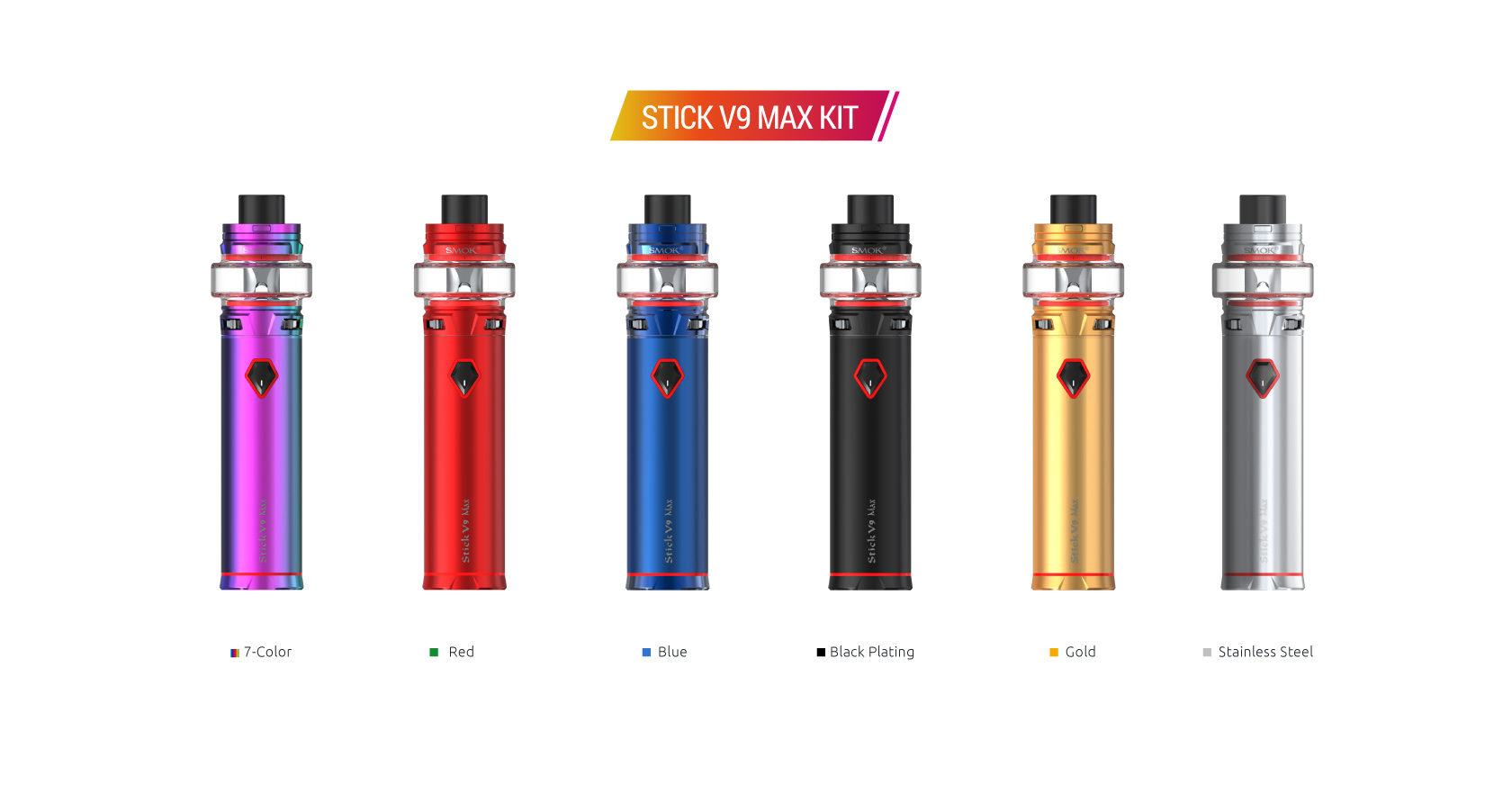 Image source: Smok Tech
Smok Stick V9 Max Starter Kit
The Smok Stick V9 is one of our recommended vape starter kits. It has a single button function interface, a top-filling tank, and an inbuilt battery unit. The vape offers the user all the benefits of a mod kit and is simple to use.
With a 4,000 mAh battery, you can guarantee that this product will see you through the day, even into the next! It also has a large fluid capacity and an innovative swing lock tank system that will take up to 8.5 ml of liquid.
Included in the kit, you will find two coils 0.15 ohm. Both coils are more than up to the task of generating great vapor and flavor.
The kit is a great first rung for many people looking for a starter vape kit. It is uncomplicated and doesn't have a range of settings. Moreover, it is affordable.
Image source: Wismec
Wismec RX Mini
Wismec is a great brand. They have been responsible for some solid additions to the vaping market.
The RX mini starter kit is no exception.
This funky little device offers you a compact vaping system that is user-friendly. It is built to be modified and upgraded. It comes with a 2,100 mAh battery and can achieve a rather impressive 80w of power.
The design is well put together; it has a stylish OLED display and sleek recessed control buttons. It is capable of supporting a range of different temperature control coils and contains upgradable firmware and tank.
The tank is top-filled and comes with a 0.2 ohm coil as standard. This vape starter kit comes with an acceptable 2ml capacity Armor tank from Wismec; this can be exchanged and swapped out for more spacious and robust models.
It is highly adaptable as a product and can be modified and upgraded as you wish. It comes in at a reasonable price and should give you what you want from a vape. It's discreet, stylish, and easy to get to grips with.
Image source: Halo Cigs
Halo Reactor Mega Kit
The Halo Reactor Mega Kit packs a punch with its heavyweight battery and sleek inbuilt design style. The Halo Reactor Mega Kit comes with a 5,000 mAh battery that will keep you going for some time, we're talking one to two days of charge easily!
Its maximum power output comes in at 80w, which is ample for most vape users. This means you should be able to vape throughout the day without worrying about a recharge.
The Halo Reactor Mega Kit also supports TC (Temperature Control) vaping, with nickel, titanium, and stainless steel coils. This means you can use any TC tank, making it highly adaptable.
The Halo Reactor tank should suffice at a 5ml capacity, which is pretty big. It has a top-filling design and comes with two 0.15 ohm ni200 coils. You get temperature control and great airflow adjustment when using the Halo Reactor, and it's a good cloud maker too.
It is one of the best vape starter kits. The mods aren't too hard to get your head round, and everything is built to be as user-friendly as possible.
Image source: Direct Vapor
VaporFi V-Grip 75 TC Starter Kit
VaporFi V-Grip offers a great product in the 75 TC starter kit. Mainly because it is so adaptable, you can remove the battery, and you get the choice of three different tanks. It is ergonomically designed to create great comfort in handling and has a neat fire bar in place of a button.
This smooth device offers 75w of power and runs on a single 18650 battery. Offering temperature control and a range of adaptations, it is a great first time buy.
The three different tanks are the Rocket 3 sub ohm tank, the Viper sub ohm tank, and the Volt 2 rebuildable atomizer. All three are fantastic tank systems and are well worth the extra money.
You get everything with the starter package, and it will give you a lot to play with as you explore the wonder of the VaproFi V-Grip 75 TC starter kit.
Image source: JacVapor
Series-S22 e cigarette Jac Vapour
The Series-S22 offers up an impressive 2600 mAh battery to keep you going confidently throughout the day. It has a durable design to ensure that it can withstand knocks and bumps.
Simplicity is key. This high-quality pen is quick and easy to use with the standard-issue top-fillable tank.
Jac Vapour Series-S22 has great draw-action with an appealing MTL sensation that you often get associated with smoking a cigarette. It is a popular product with ex-smokers.
This vape starter kit comes with a range of accessories that should keep you well equipped. It offers replaceable coils, batteries, and tanks. The coils are especially well made being the 1.0 ohm S-Series, great for mouth to lung vape enthusiasts.
Coming in at a reasonable price, the Jac Vape Series-S22 is a fantastic all-rounder that is great for those of us that live life on the go.
Image source: Apollo Ecigs
Apollo Ohm Go
Offering a great experience and with a nice design, the Apollo Ohm Go is an easy to use and particularly popular model. Since its launch, it has quickly become recognized as one of the best vape starter kits.
It comes with standard coils; the 1.0 ohm coil that is great for mouth to lung vaping and the 0.50 ohm coil that works great for DTL (direct to lung), which offers you a sub ohm vaping experience.
This neat little bundle offers you a great vape at a reasonable price that will keep you puffing away in a most delightful way.
Great for ex-smokers and enthusiasts alike. Excellent flavors and plenty of vapor! The Apollo is self-adjusting, so you don't have to play with any wattage. Easy to use and great to experience.
Image source: KCS Smokz
Epuffer Magnum Snaps
The Epuffer Magnum Snaps is a great vape. One of the main selling points is the fact it comes with its recharging case or PCC (personal charging case). It offers the user a great way of keeping your vape energy levels up. No chance of running out midway through the day!
It's a simple product with a nice 30-day money-back guarantee, even if you have already opened and used the product.
You get great flavors and a nice vape cloud. This vape starter kit comes with two batteries and three cartridges and of course, the PCC.
The Epuffer is modeled on an e-cig design and is elegant and slender. Although the batteries may not be overly powerful, the PCC ensures you'll keep vaping throughout your day.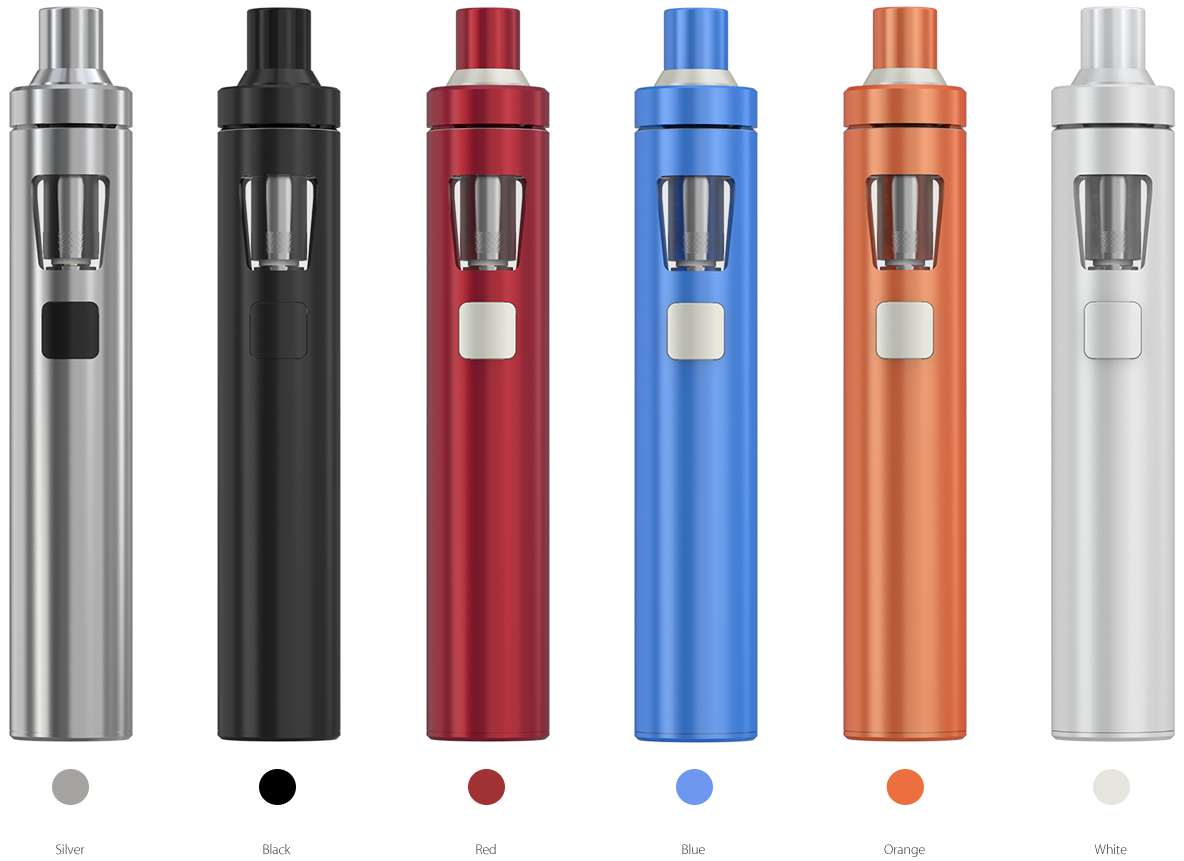 Image source: JoyeTech
Joyetech eGo AIP D22 XL
Joyetech's eGo AIP D22 XL is easy to use all in one style vaporizer. Great for the beginner user. It is easy to construct and fill, being a top-fillable screw-on system. It has a 3.5ml tank that is accessible via the removal of the mouthpiece and top cap.
It's got a sizeable 2,300 mAh battery, which makes it a serious market contender in terms of battery life. You get two 0.6 ohm coils that are perfectly tuned to MTL vaping styles, which are often preferred by the ex-smoker.
You get great airflow control. Packaged to make your life uncomplicated, this particular piece of kit is well worth the purchase. It is affordable and more to the point; it gets the job done.
VitaminVape
This isn't technically a kit, but we included it on this list because, frankly, we love it. It doesn't contain any nicotine, but all the same it proves to be a very enjoyable vape. On top of that, it's a totally enjoyable formula, which is 100% made in the USA.
Instead of nicotine, the VitaminVape contains vitamin B12. On top of offering a healthier buzz, the all natural ingredient has numerous health benefits, especially for the nervous system and cell development.
VitaminVape is also free of nasty additives like vitamin E acetate and diacetyl, making it an entirely guilt-free way to take a break from nicotine.